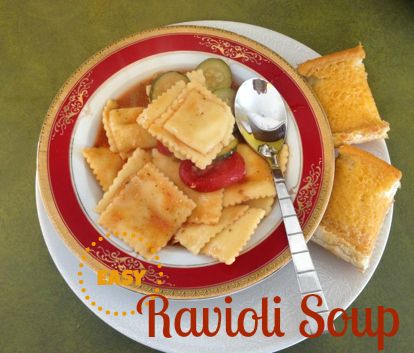 Picture this: It's Spring... the birds are chirping, the trees are budding, and the sun occasionally shines. but then out of nowhere you see snow on the ground and you wonder "did I dream all of that?" The answer is no, probably not. It's more likely that you live in Northern Michigan and you're just noticing Mother Natures dark, disgusting, ill-timed sense of humor.
To help beat the confusing Spring blahs and usher in happy thoughts I turned to this soup. Yupper I did. Surprise! Food for sadness. What a concept, right? It was a hit, not only for me and my husband, but also for our tots! Oh and the leftovers were stellar, too!
Homemade Ravioli Soup
1 Can Stewed Tomatoes, 14.5 oz.
1 Can Vegetable Stock, 10 oz.
10 oz. water
1/2 t. Salt free Italian Seasoming
3 C. Frozen ravioli
2 Zucchini, scrubbed and sliced thin
Black pepper to taste
Add to the pot: tomatoes, stock, water, and seasonings. Simmer 5 Minutes.
Add ravioli, zucchini and a bit more pepper. Bring to a boil and simmer 8 minutes. Done.
I served this with garlic bread and fresh pear slices but the choices are endless.