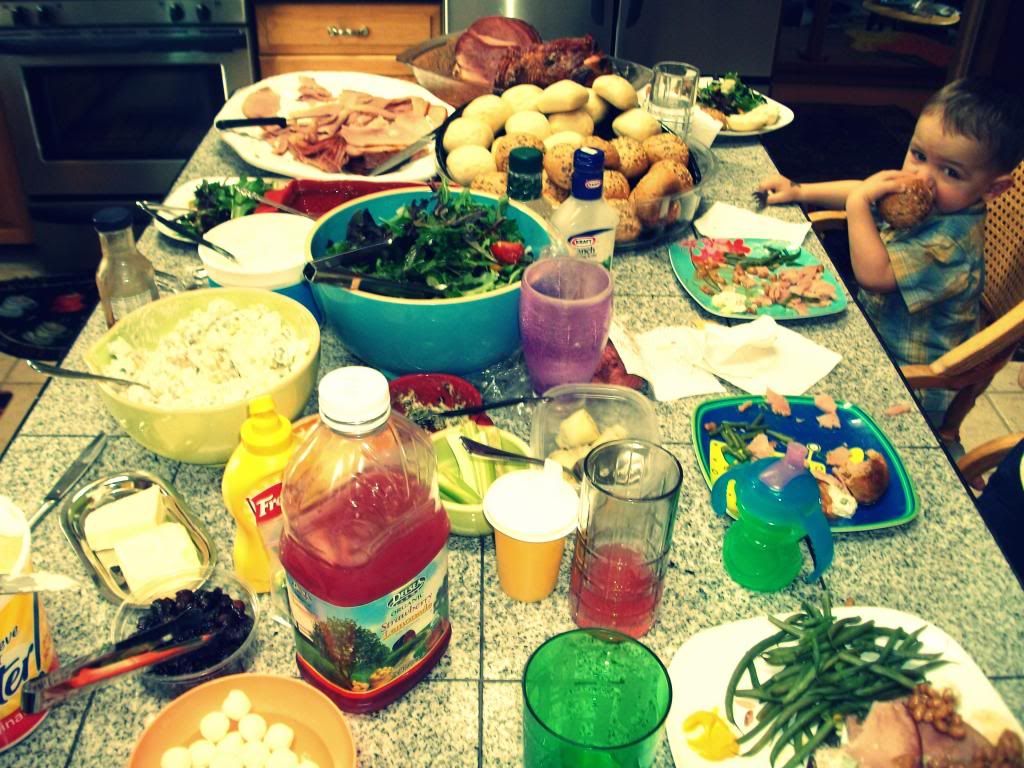 The spread at a recent family gathering - plenty to choose from for the plant

OR

the meat eater.
That is a common question that runs through my head when feeding our babies clean and mostly plant-based foods.
I'm stuck in my old mentalities of meat = a full belly. I am quick to forget that satisfying protein can also be found in: beans, nuts, tofu, meat substitutes, and quinoa (a complete protein full of all the essential amino acids!).
Another helpful tip to remember: kids eat what they need, when they need it. Furthermore their food cycles are not 24 hours like adults, but instead a few days in length. Meaning a portion of fruits or whole grains may last them far longer than would sustain an adult. PHEW!
I let myself off the hook a bit. Mealtime is more fun, after all, when I stop playing Food Police and enjoy my tots' healthy appetites for life.
We've been enjoying a heck of a lot more clean and plant-based foods. Here's a recipe for a recent crowd-pleaser: Sweet Potato Mac and Cheese, adapted from
Better Balance Fitness
(one of my favorite clean lifestyle FB pages!).
Sweet Potato Mac and Cheese
1 Sweet Potato, steamed and cut into chunks
1/4 C. nutritional yeast
1 C. milk alternative, we used soy
1 teaspoon salt, we used pacific grey
1 tablespoon fresh lemon juice
1 teaspoon onion powder
1 teaspoon garlic powder
1 teaspoon turmeric

1 teaspoon ground pepper

pasta of choice, cooked
While the sweet potato is still hot add it and all other ingredients to a blender, food processor, or bowl large enough to hand-mix. A blender is not necessary but will ensure a creamy macaroni-and-cheese-like texture. Blend until creamy and serve over fresh whole grain pasta. Yum!
For leftovers I served with quartered compari tomatoes and sliced avocado - delish!