Remember a short while back the
BBQ sans BBQ
I mentioned? Well, since that day I cannot stop thinking about the ooey, gooey, melt-in-your-mouth, seriously-not-enough-awesome-words-to-describe it
fudge
I made.
After trying the dish many months ago I've wished for an event just so I could make it. And then it happened.
I used a recipe from my good friend Sarah &
Better Balance Fitness
. If you're into having a clean and healthy lifestyle & diet- be sure to scope her FB page. There are TONS of awesome recipes and tips laid out. Anyway! Back to the goodness.
But first, something to laugh at because, let's face it, nothing goes better with chocolate than laughter. Am I right here?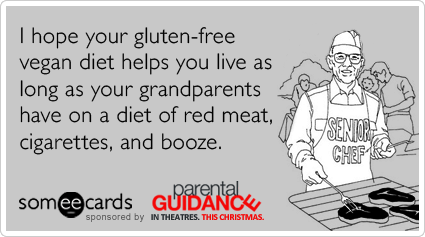 Disclaimer: Yes, I know this recipe has a vegetable in it. It's delicious, I promise. I wouldn't share it if it wasn't! Also yes, I realize fudge doesn't typically have a "crust." I've called this cheesecake, fudge bites, brownie-like. For the sake of simplicity I settled on fudge.
Ingredients:
For the Crust:
2 cup raw almonds
2 tablespoons coconut oil
¼ cup cocoa powder
¼ cup pure maple syrup
⅛ teaspoon fine sea salt
For the Filling:
2 cups raw cashews (no need to soak)
1 cup peeled & diced zucchini
½ cup cocoa powder
½ cup pure maple syrup
1 tablespoon vanilla extract
¼ teaspoon fine sea salt
¼ cup coconut oil, melted
Prepare the crust by placing the almonds in a food processor and grinding them into fine meal. Add in the rest of the crust ingredients, and process again until well combined.
Line the bottom of an 8-inch spring form pan with plastic wrap or parchment paper, then press the crust evenly into the bottom of the pan. Place the pan in the freezer while you make the filling.
In a high-powered blender or food processor, process the raw cashews until they are a fine powder. Add in the zucchini, cocoa powder, maple syrup, vanilla extract, and sea salt, and blend again until smooth and creamy. Add in the melted coconut oil, and blend again until everything is combined.
Pour the filling into the frozen pie crust, and allow to set for about 4 hours.
Note: Serve directly from the freezer, for best texture, as it will soften if left at room temp.
Now, quit sitting on your butt and go make a batch. Seriously. For starters you're going to have to wait for it to set in the freezer so you're already behind, and beside that... THERE'S A VEGETABLE IN IT - serve it tonight for dinner for crying out loud. And enjoy!